The Greatest Reggae Show on Earth will take centre stage in Jamaica between July 21 and July 27 in Catherine Hall, Montego Bay.
The Reggae music festival will be staging it's 21st event this year and the line-up for the three nights -dancehall night, international night 1 and international night 2 – is phenomenal.
 However, although the main events (which are the three themed nights) will end the music festival there will be parties in between, and a beach party will kick off the week of activities.
Despite the festival being known as the "greatest reggae show on Earth" the festival organizers aim to live up to their motto – "Promoting Music, the Universal Force" and as such offer all genres of music at the event. Hence the three nights of unfiltered good music and undiluted fun.
Tickets:
Tickets are available online and at ticket outlets across the island. (Please use the exchange rate as: JMD $1 = USD$ 100)
The ticket outlets are: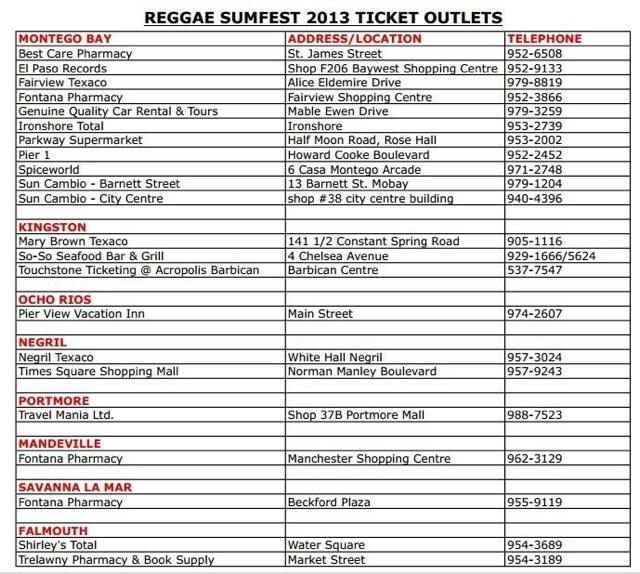 University students are also offered a 20% discount on all tickets (however, they are restricted to purchasing 2)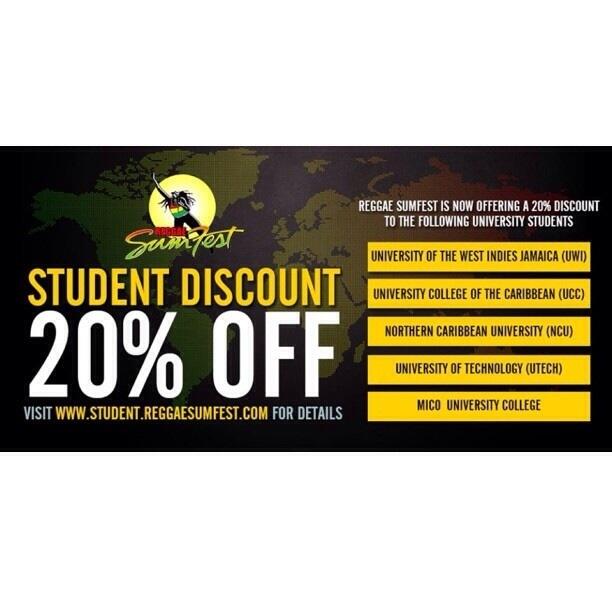 The Line-Up
Saturday  July 21, 2013
REGGAE SUMFEST BEACH PARTY
Venue: Aquasol Beach Park
Presold J$1,000 / US$10
At Gate J$1,200 / US$12
DJ Smoke
ZJ Sparks
DJ Crazy Neil
DJ Baby Thug
Appearances by:
Chi Ching Ching
Specialist
Gates Open: 2pm
Tuesday  July 23, 2013
REGGAE SUMFEST ALL WHITE PARTY
Venue: Pier 1
Admission: J$ 1000/ US$ 10
DJ Narity
DJ Kentucky
DJ Jason Russell
Thursday  July 25, 2013
DANCEHALL NIGHT
Venue: Catherine Hall
Presold J$3,300 / US$33
At Gate J$3,500/ US$35
VIP J$5,500 / US$55
Performers:
I-Octane
Beenie Man
Bounty Killer
Lady Saw
Aidonia
Assassin
Popcaan
Kip Rich
Tommy Lee Sparta
Spice
RDX
I Wayne
Bugle
Macka Diamond
QQ
Danielle DI
BladeSkeemaz
Baby Tash
Alkaline
Payne
Backing Band: Ruff Kut Krew
MC's: G.T. Taylor
Richie B
Gates Open: 7 pm
Friday  July 26, 2013
INTERNATIONAL NIGHT 1
Venue: Catherine Hall
Presold J$5,700 / US$57
At Gate J$6,000 / US$60
VIP J$8,500 / US$85
Performers:
Flo Rida
Beres Hammond
Barrington Levy
Tarrus Riley
Jah Cure
Nature
Iba Mahr
Droop Lion
Sophia Squire
Kiarah Dubwah
Backing Band: Blow Wow
MC's: Elise Kelly & Barry G
Gates Open: 7 pm
Show Time: 9 pm
Saturday  July 27, 2013
INTERNATIONAL NIGHT 2
Venue: Catherine Hall
Presold J$5,700 / US$57
At Gate J$6,000 / US$60
VIP J$8,500 / US$85
Performers:
Miguel
Damian 'Jr. Gong' Marley
Romain Virgo
Chronixx & Zinc Fence
Redemption
No-Maddz
Chalice
Ashley Martin
Berry
MC's: Paula-AnnePorter
Francois St. Juste
Gates Open: 7 pm
Show Time: 9 pm
What to wear?
Since the internationally recognized colours for Reggae music are: RED, GREEN and GOLD, then many people will be in those colours. 
Ladies, remember it's summer so those cute rompers, dresses, sheer tops and short shorts are acceptable. Men, no need to "dress to the nines".. a simple graphic tee, jeans and comfortable shoes will do.
It will be hot and you will have to stand all night (unless you're in VIP or carry your own chair), so ensure you wear comfortable shoes !
Where is Catherine Hall?
Catherine Hall is in Montego Bay (in the parish of St. James). Once you enter Montego Bay there will be signs and banners all over the place, we ensure you won't get lost.
Where will I stay?
Well the Reggae Sumfest Team already has you covered, their website already lists hotels and other affiliated with the organizers… click any of the links below for more information:
Be sure to follow @ReggaeSumfest on Twitter.
Have fun !